Branding your company with Covid personal protection equipment (PPE) products, including custom logo face shields, is only a good idea when the product quality matches your company brand image. Protection from Covid has created new markets for many products. Face shields provide an added layer of protection when wearing a mask, and are also helpful for those who cannot wear a mask. Not all face shields are of the same quality.
Our custom logo face shields are made in USA at a certified Women Business Enterprise plant. The plant has been innovating for decades and when the need arose, repurposed to meet the needs of those on the front line dealing with Covid cases. Hundreds of thousands of face shields have been made for healthcare workers and other businesses across the country.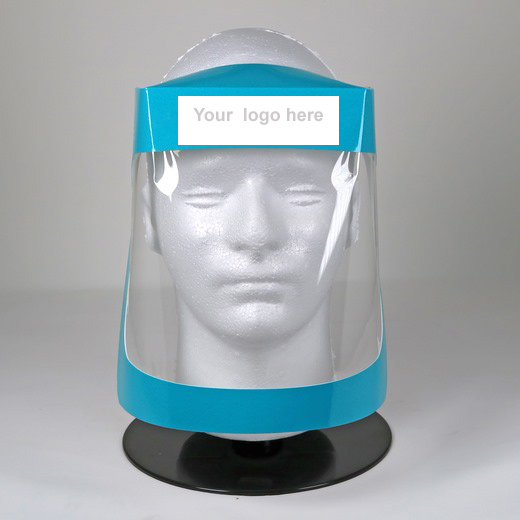 Custom logo face shields are available in all see- through material or mixed materials, with multiple logo placement options.
Stock designs, unprinted, or custom sizes and printing available
Shields can be supplied on SBS, poly-coated, or laminated material
Child size version available to fit most K-6 students
Comfortable, lightweight, full coverage facial protection
Extends life and reusability of face masks
Prevents hands from touching face
Allows for maximum visibility
Wearable with most eyeglasses, safety eyewear, and masks
Multiple fastening options: PET band, sports, or your own elastic headband (sold separately)
Designed to stay securely in place
Made from 100% recyclable materials
Ships and stores flat, and is easily assembled
Certifications: WBE, Zero Landfill, EPA Green Power Leadership Club, EcoVadis Corporate Social Responsibility (CSR) Assessment- Gold recognition, FSC Chain of Custody certification
x
These face shields have not been FDA cleared or approved, however, they have been authorized by the FDA under the COVID-19 pandemic Emergency Use Authorization (EUA) as personal protective equipment (PPE) for use by healthcare professionals for medical purposes. They will remain authorized for the duration of the emergency as described under Section 564(b)(1) of the Federal Food, Drug and Cosmetic Act, 21 USC 360bbb-3(b)(1) unless the authorization is terminated or revoked sooner."
The use of our face shields alone will not prevent infection from microbes or viruses. It is designed to minimize the spread of, and reduce exposure to, COVID-19. It is NOT a replacement for N95 face masks and should be used in conjunction with other appropriate PPE.
About CEO promos:
Sister company blog to CEOgolfshop.com, a 100% Women-owned Florida business since 2004. CEO promos specializes in quality custom products, including luxury men's apparel. From private label to top luxury brands, we manufacture or source virtually anything executives and high net worth individuals need.

CEOgolfshop is an authorized reseller of a wide variety of personal protection equipment. Our difference is not only quality, but actual product that we can deliver, something that has been problematic during the pandemic.