l mostly live in warm, sunny South Florida, but I've spent most of this summer in New York where it's been hotter than usual, with over 20 days above 90 degrees. I miss my Yeti. I miss my Corkcicle!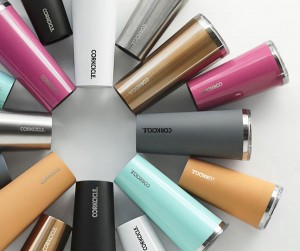 I never drive anywhere without cold water in Florida so why would I want to in NY summers?  Surprisingly, most people up here don't have one.   Looking for a great gift for someone in the Northeast? You just found it.
Some of my favorite Corkcicle Tumbler benefits:
I can pour a beer into it and it's cold to the last drop.
Spill proof lid. If you've ever had a Yeti, you know what I'm talking about.
Easy grips on each side. I never knew how much I'd appreciate having them, until I used an old brand again that didn't. I'm sure it costs more to manufacture, but I think it's worth it.
Sadly, color Corkcicle's are rarely available for custom, but check back with us or request an advance order, 6-12 months, and we'll do our best. Or you can choose from stock black, white, or stainless any time.
About CEO promos:
Sister company to CEOgolfshop.com, a 100% Women-owned Florida business since 2004. CEO promos specializes in quality custom products, including luxury men's apparel and one of a kind art gifts.  From private label  to top luxury brands,  we manufacture or source virtually anything executives and high net worth individuals need.
About Corkcicle:
CEOgolfshop is an authorized reseller of custom Corkcicle promotional products. Corkcicle Canteens and Tumblers use a first-of-its-kind, proprietary layer of insulation. In between the two walls of stainless steel, there's a third layer that keep drinks cold for up to 20 percent longer than other insulated bottles and cups.  They make a variety of exceptional products for your drinks including coffee, beer, wine, and accessories.