The Yeti Colster is a custom logo gift with high return on investment for company branding.  Your brand will always be associated with the great feeling of a cold drink on a hot day.  Demand is very hot so don't wait to contact CEOpromos for your custom logo Yeti Colster because inventory often disappears overnight with large corporate orders.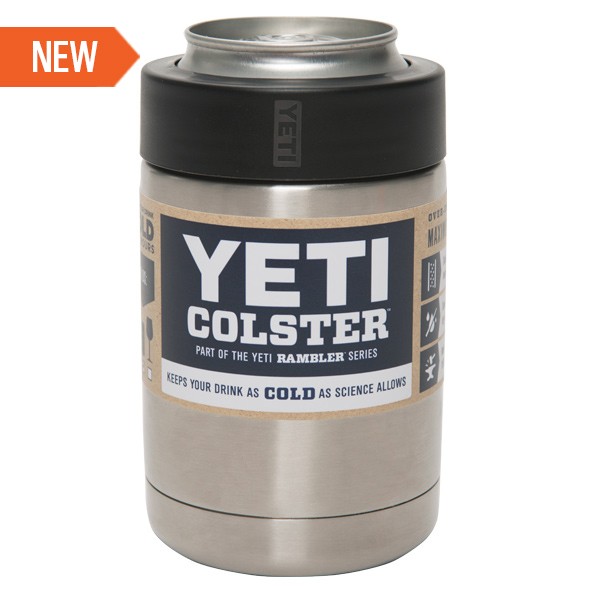 What makes it special? The exterior touch matches the outside temperature but the inside stays as chilled as the drink you put in it for hours and hours. Plus, it doesn't sweat. The top cap hides what exactly is in that can you're drinking! Pre-chilling the Colster is optional. It works even without it.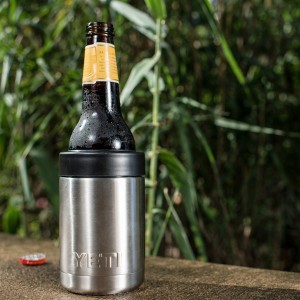 Not all bottles will fit the Yeti Colster well, but most do.
The YETI Colster™, is part of the Rambler™ series,  the next evolution in can-insulating, hand-protecting technology. All the powers of modern science were brought to bear on this drink insulator to keep the contents of your 12 oz can or bottle chilled, including double-wall vacuum insulation and a ThermoLock™ Gasket that locks in the cold. The heavy-duty stainless steel walls are sweat-proof, so you can high-five with impunity while enjoying a tasty beverage.
Custom logo Yeti Colster gift ideas: 
Employee birthdays
Company picnic
Incentive awards
Event goodie bags
Golf tournaments
Charity auction gifts – perfect for finance and other companies that don't have tangible or high demand products to donate.
Yeti Customization:
Laser marking is a permanent process that doesn't fade
Additional fees apply for multiple location or multiple colors
We can approximate many PMS colors
Engraving and marking are different, but they share some of the same technology and even equipment
Custom Yeti Colster Pricing
Blank Yeti Colsters start at $29.99. Contact us for custom pricing based on your logo size, and other customization.
CEOpromos / CEOgolfshop minimum order is 24 units; order in 48 unit increments for faster production.
We abide by all manufacturer price restrictions. Discounts are not allowed. For very large orders, we may be able to offer additional gift items.
What colors can I print? Specify PMS colors for all art and we'll try to match. It's not possible to match every color, but we can usually get close.
Can I use multiple colors?  We'll need to review art. Complex artwork will incur special set up charges.
Are there size limitations? For the most cost effective solution, we recommend no larger than 1 inch wide by 3.25 inches from top to bottom. If you need wider, additional fees apply.
Can I print on 2 sides?  Yes, for an additional fee. For example, a company logo on one side and a product logo or slogan on the other side. Or event sponsor logo and event logo.
What type of file is needed?  Vector art.  A transparent logo is required. .ai or .eps preferred.