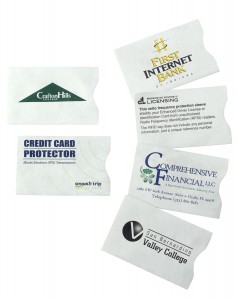 It's prime time for Identity theft opportunities from RFID chips.  Block RFID readers from scanning your credit cards with custom Secure Sleeves®.   Each time the card is used, your brand gets promoted.
Secure Sleeves offer RFID protection for contactless credit and debit cards in YOUR wallet. Simply slide the card into the sleeve and the sleeve back into your wallet. It's just that simple. Protect Passport Booklets and Passport Cards. Choose from a variety of styles. All are approved for protective use by the US Government.
Market penetration is climbing for credit and debit cards with the little chips. The problem is thieves don't even have to get that close to you if they have amped up equipment to read the data on the chip.