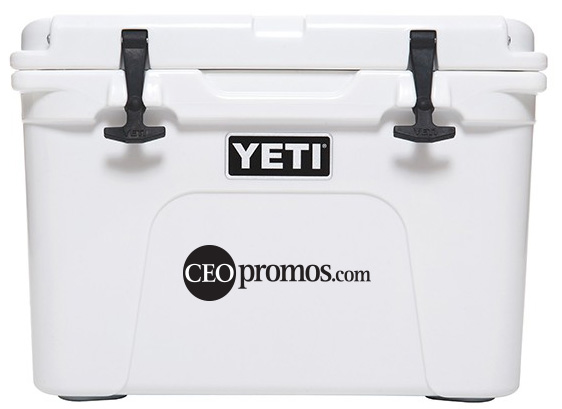 Not every company has the perfect product or service to donate for charity events, but that doesn't mean you can't make a long lasting impression. Yeti Coolers are so durable, they're expected to last for generations. Whether you choose to donate blank, or add your custom logo, this item will get talked about for years. Yeti owners will share where they got their cooler from over and over again, spreading the word about the charity and your company. CEOpromos offers multiple methods to customize Yeti coolers permanently with company logos, plane tail numbers, yacht names and more.
3D Merchant Services donated the Yet Tundra 35 to the JA World Uncorked silent auction, a $299 value. Looking for a great deal on a Yeti Cooler?  Due to manufacturer price restrictions, you won't find them at a discount by any approved reseller.  However, by partnering with one company for all your promotional product and gift giving needs, you're more likely to get extra 'freebies' when you need them. In this case, we procured extra Yeti goodies at no additional cost. If you want high value charity gift ideas that will last for decades or longer, contact CEOpromos.
The annual JA World Uncorked returns for its fifth year on January 24, 2015. The culinary showcase, presented by Premier Beverage and hosted by chairs Bob and Susan Drinon and Renée Korbel Quinn with Junior Achievement's Circle of Wise Women, will give guests a chance to mingle with some of South Florida's top chefs, experience their culinary creations and support local education through Junior Achievement South Florida.
About Junior Achievement South Florida: 501c3 nonprofit that reached over 48,000 students in Broward and south Palm Beach County students during the 2013-2014 school year. It's core purpose is to inspire and prepare youth to succeed in a global economy. JA's Educational Focus Centers around Entrepreneurship, Workplace readiness and Financial Literacy.
About 3D Merchant Services:  Delivers flexible, scalable, payment processing solutions to software companies and merchants, so they can competitively service their customers, mitigate risks of accepting credit cards and other payment types, and improve EBITDA. Core products include payment gateway virtual terminal, and electronic bill presentment & payment.
About CEO promos: Sister company to CEOgolfshop.com, a 100% Women-owned Florida business since 2004. CEO promos specializes in quality custom products, including luxury men's apparel and one of a kind art gifts.  From private label  to top luxury brands,  we manufacture or source virtually anything executives and high net worth individuals need.  Contact 800-CEO-1899.