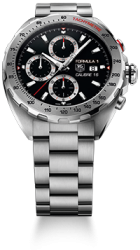 Need corporate incentive gift ideas?
Need corporate incentive gift ideas? For higher budgets, the best gift choice  involves repetition of use.  It continually reinforces fond memories of how they got the item. To reward your best employees, a Tag Heuer watch is a gift they'll never forget.  Optionally custom engrave the case back.

FAQ:
Is there a minimum order?  If you only need a few, go to a local dealer or buy online.  We sell in quantities for special events and corporate incentive programs only.
Can you mix and match watch styles to achieve minimum? Yes. For example, let's say you plan to distribute 100 watches, but salespeople need to reach different tiers to receive higher value watches. Or you need some for women and some for men. We'll create a plan with the same brand to achieve your goals.
Can you ship to a hotel?  Contact us for event distribution needs.
Do you sell to individuals? No, we sell to qualified companies in the US only.
Can I get a huge discount?  We abide by all manufacturer price restrictions.
Do you offer other watch brands? Yes, We have relationships with manufacturers and dealers of most luxury brands.
How can we be sure the watches are authentic Tag Heuer? All timepieces are shipped direct from an official Tag Heuer outlet.  Each watch has an individual, traceable serial number.
Will you donate a watch to my charity event for auction? Sorry, no. We sell in quantities for special events and incentive programs only.
About Tag Heuer:  TAG Heuer, the leader in prestigious sports watches and chronographs since 1860, is one of the largest and fastest growing luxury Swiss brands. The Swiss brand draws upon its active engagement in the world of sports to create the most accurate timekeeping instruments in the world. From the Olympic Games in the 1920s to its role as official timekeeper to within 1/10,000th of a second for the legendary Indy 500 from 2004 to 2006 , TAG Heuer, in a constant quest for innovation and precision continues to aim ever higher.

About CEO promos: Sister company to CEOgolfshop.com, a 100% Women-owned Florida business since 2004. CEO promos specializes in quality custom products, including luxury men's apparel and one of a kind art gifts.  From private label  to top luxury brands,  we manufacture or source virtually anything executives and high net worth individuals need.